Setting up your interlibrary loan account.
Setting up your Interlibrary Loan Account.
Often you will need an article, book or audo-visual item that we do not own in the Bellarmine University Library.
Most libraries have relationships with other libraries in which they can borrow items from each other. You will first need to set up an account before placing a request. If you are a First-time user of interlibrary loan click here to register.
The interlibrary loan system we use is called ILLiad. The screen shots below illustrate the registration process.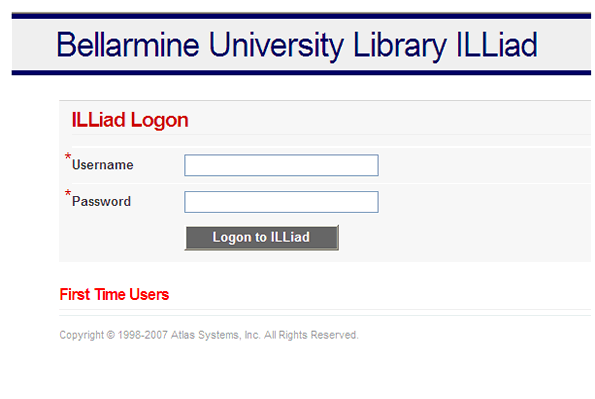 *Fill out the following form and click the submit information button. This is a one-time process.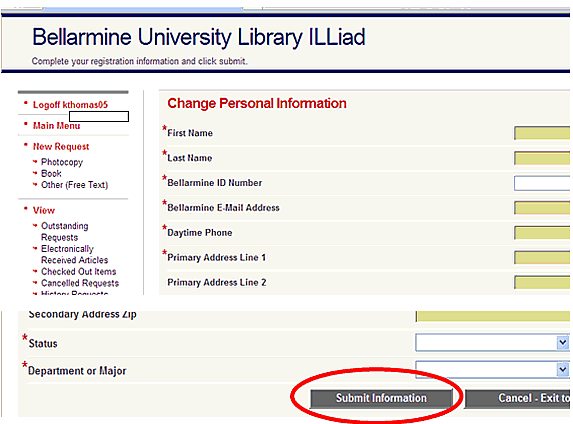 *You are then directed to a form into which you can enter the information describing the item you would like to
request. Note in the left column the options:
Photocopy - refers to an article from a magazine or journal.
Book and Video requests use the same form.

Click "Photocopy" or "Book/Video" depending on what you are requesting and fill out the form provided.
Books will be delivered to the library for you to pick up, Articles will be delivered to you electronically. Instructions for retrieval will be provided in an email message sent to the account you provided in your ILL registration.