Configuring Google Scholar
How to Configure Google Scholar
Most of us have used Google as a starting place for research on the Internet. It can provide many useful information sources and many other leads to information not freely available on the Internet. You might not be aware of Google Scholar (http://scholar.google.com) which is another search tool available from Google. Google Scholar provides more focused, scholarly and academically-oriented search results such as full-text documents, links to scholarly articles either free or for a fee, book citations (some full-text if out of copyright).

The Google Scholar search interface looks like this: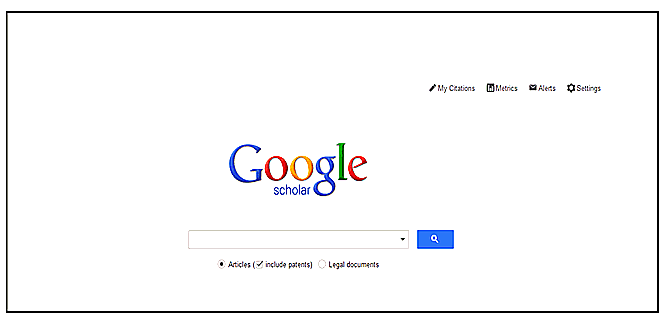 Google Scholar also has the ability to connect you with full-text documents that are included in the Bellarmine Library's subscription services like Ebscohost and ProQuest. If you are searching Google Scholar from an on-campus computer, this will be done for you automatically. If you are searching from an off-campus computer, you must configure Google Scholar to connect to Bellarmine Library's resources.
Configuring Google Scholar for off-campus use
Search results from a Google Scholar search will look like the following: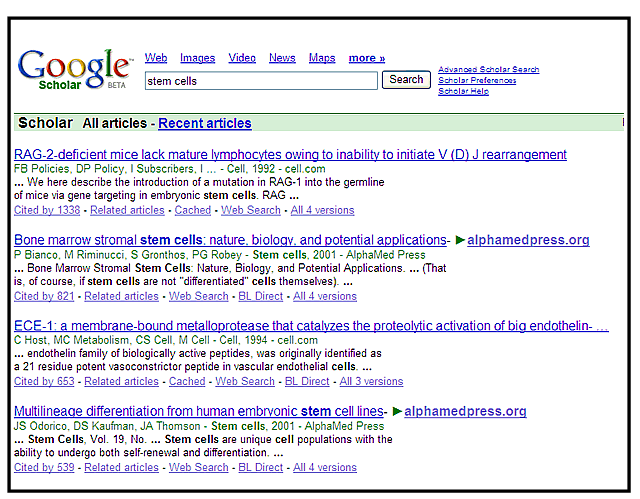 The above results give no indication as to availibility through the Bellarmine library databases. Now look at the following results: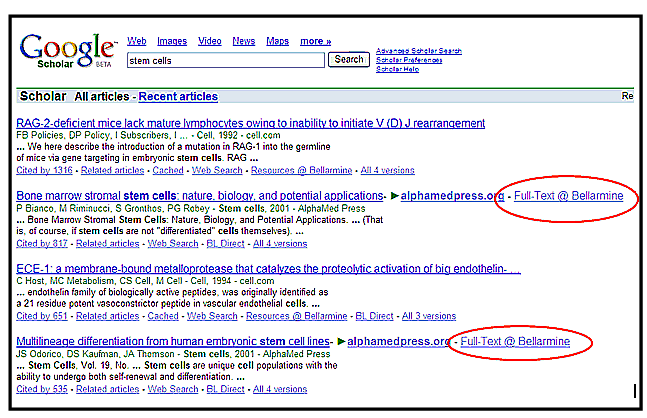 The above results indicate the documents circled in red are availible through Bellarmine Library databases
To configure your off-campus computer to identify articles availible through the Bellarmine Library databases, connect to Google Scholar at www.scholar.google.com and click on the Settings button at the upper-right of screen.

On the Google Scholar Settings page, look for the Library Links search box. Type Bellarmine University and click Find Library. You should then see a Bellarmine University Library - Full-Text @ Bellarmine checkbox like this: :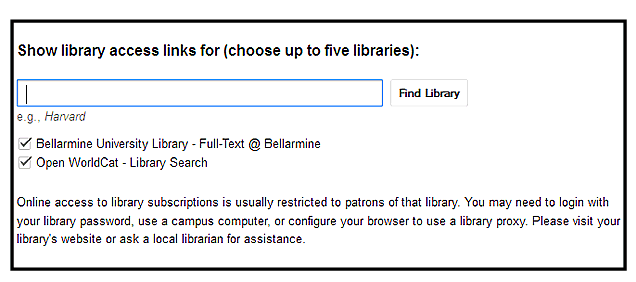 Make sure the Bellarmine University Library box is checked and the click the blue Save button.

Now when you run a search on Google Scholar, the Full-Text @ Bellarmine phrase will appear next to any item accessible through the Bellarmine Llibrary databases. You will still need to use your Bellarmine network ID and password when prompted. The following screen will appear: